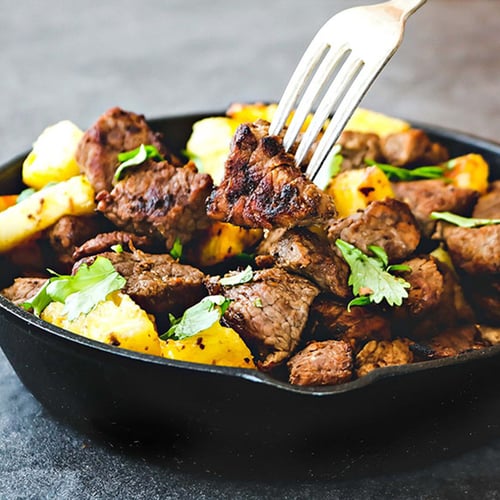 Sesame Pineapple Steak Bites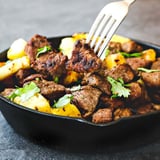 Ingredients
2 lbs. grass-fed sirloin steak tips, cut into bite-size pieces
1/4 cup coconut aminos
3 tbsp. toasted sesame oil
1/2 tsp. garlic, minced
1 cup fresh pineapple, diced
1/4 cup cilantro, chopped
Directions
Combine steak pieces, sesame oil, coconut aminos, and minced garlic in a medium mixing bowl and toss to coat. Cover and marinate in the refrigerator for least four hours.
Drain marinade from steak and heat a large cast-iron skillet over medium-high heat. When skillet is very hot, add steak pieces. Cook for five minutes.
Carefully drain and discard excess liquid from the skillet. Turn heat to high and cook for an additional five minutes, or until steak bites are browned. Stir in pineapple pieces and cook two minutes longer.
Serve hot and garnish with cilantro.